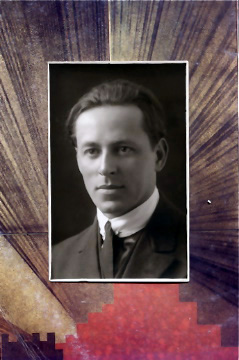 « A painter and a sculptor », that's what he claimed to be. But Gustave Miklos (1888-1967) was also a unique cubist enameller, varnisher, « interior designer », not to forget his anonymous activities for others as an illustrator and designer of books and bindings.

The latter works, which were done anonymously, have been treated in our first volume : Gustave Miklos, Un Grand oeuvre caché (Recovered works), 2013.

It was in Hungary, with his tinker father, that Miklos initiated himself, very young, into metal working. After that, he studied painting at the Royal School of Decorative Arts in Budapest, and various techniques (sculpture, enamelling, lacque, mosaics, photography, etc.). His apprenticeship took place in a Central Europe that, at the beginning of the 20th century, was a hot bed of numerous cultural and artistic currents. Just as the avant-garde, Gustave Miklos was always driven by the need to create new forms, to blend techniques and materials, while tearing down the partition walls in the domains of fine arts. Hence the richness and diversity of his work that is characterized by constant innovation. His oeuvre is based on a set of immovable rules that a form a Miklosian grammar, at once subtle and identifiable, constitutive of the Art Deco style.

This volume focalizes on three artistic fields in which Miklos won fame : sculpture, decorative arts and painting. For each of them, we have established a catalogue raisonné of the works.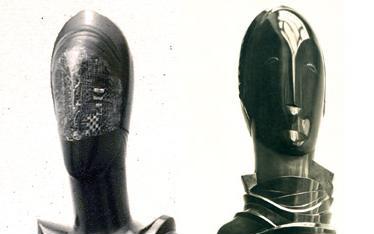 Authors
Marie-Hélène CHRISTATOS

Former student of the l'École du Louvre (1992), graduated from École d'Art et de Communication (1995), creator in 1998 of « La Boîte de Pandore », one of the first French websites dedicated to Art Nouveau and Art Deco. Realizes numerous interviews with contemporary sculptors.
Christiane PATKAÏ

Art historian, author of a master's thesis, written in 1978 under the guidance of Bernard Dorival (Art history, Paris IV) : Gustave Miklos 1888-1967 : sa vie et son oeuvre de sculpteur.
Jacques RENOUX

Journalist and author of several books dedicated to heritage. Former member of the editorial staff of Télérama and chief editor of the Magazine du bibliophile from 2000 to 2006.
Danuta CICHOCKA

Academic, lecturer, founder of gallery and bookshop Fata Libelli (Paris), expert of the CNE (Commission Nationale des Experts), Specialist of Art Nouveau and Art Déco, member of the LILA (Ligue Internationale de la Librairie Ancienne) and expert-bookseller, Member of SLAM. The only expert authorized to proceed with evaluating the works of Miklos.